Seeking Hazel Hall



An internationally respected poet, Hazel Hall lived in Portland, Oregon, in the early 1900s, writing poems inspired by the view from her second floor window. For most of her short life she was confined to the family home as her mother and sister were unable to maneuver her wheelchair down the stairs. Born in 1886, she died in 1927, at age 38. The Oregon Book Award for poetry is jointly named for Hazel Hall and fellow Oregon poet William Stafford, and yet she has faded from modern memory.

I've been doing projects about her life and work since 2017.



The Room Upstairs:
Exploring the Life and Poetry of Hazel Hall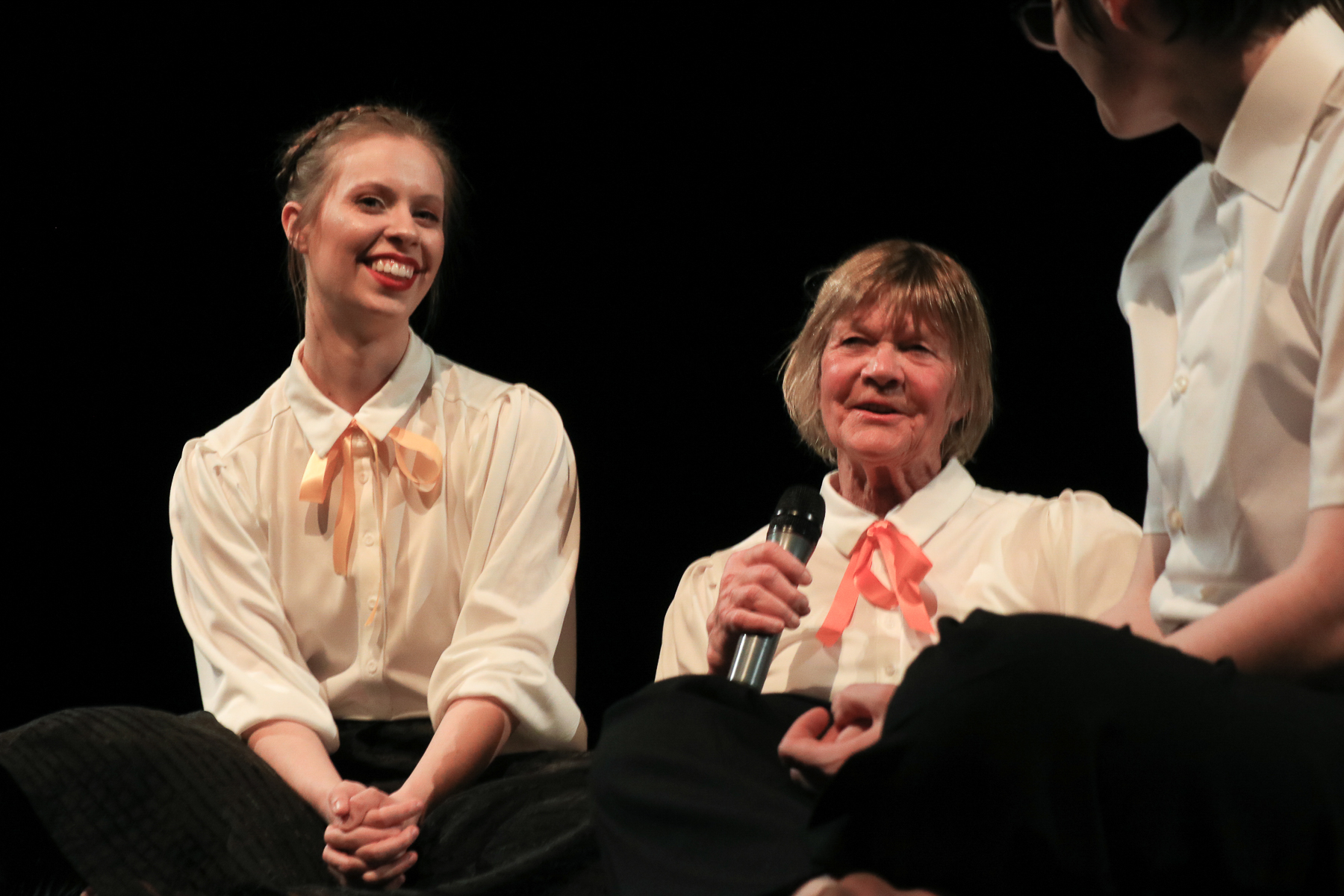 After the performance of
The Room Upstairs
, actors portraying Hazel Hall answered questions from the audience at Lane Community College.
Photo by Cat Frink.
In 2017, musician and educator Matthew Svoboda introduced me to the life and work of Hall. Together, we researched her life, poetry, and the history of Portland during her lifetime. We did this through visiting the Oregon Historical Society's research library, touring Hall's former home with the current residents, exploring the City of Portland and Multnomah County Library's digital archives, and meeting with visual artists making artwork inspired by Hall.
We used this research to develop a performance at Lane Community College depicting and celebrating Hall's life. Matthew composed a three-movement work for dance that echoes the themes of Hall's three books and collaborated with two choreographers on a performance with a group of Lane students and a dancer from the community who uses a wheelchair, portraying Hall.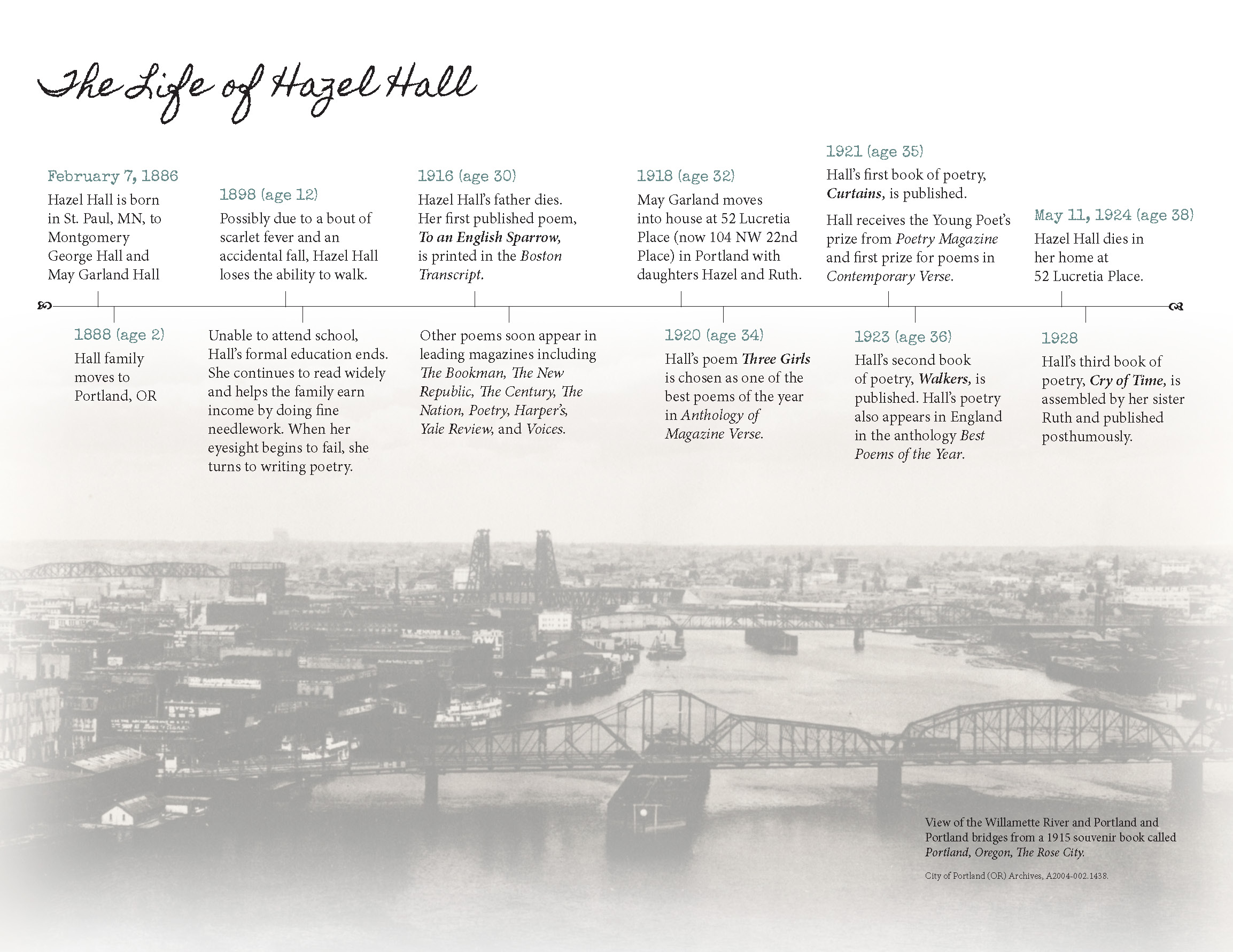 The content and design of the event poster, program, and poetry broadsides were shaped by our research in collaboration with graphic designer, Cat Frink, who was a senior at Lane.
Photo by Laura Glazer.
Our quest to understand the life of Hazel Hall landed us at the Oregon Historical Society's research library. With the help of a research librarian, we delighted in reading the registration form used for requesting the addition of Hall's former home to the National Register of Historic Places in 1991.
Photo by Laura Glazer.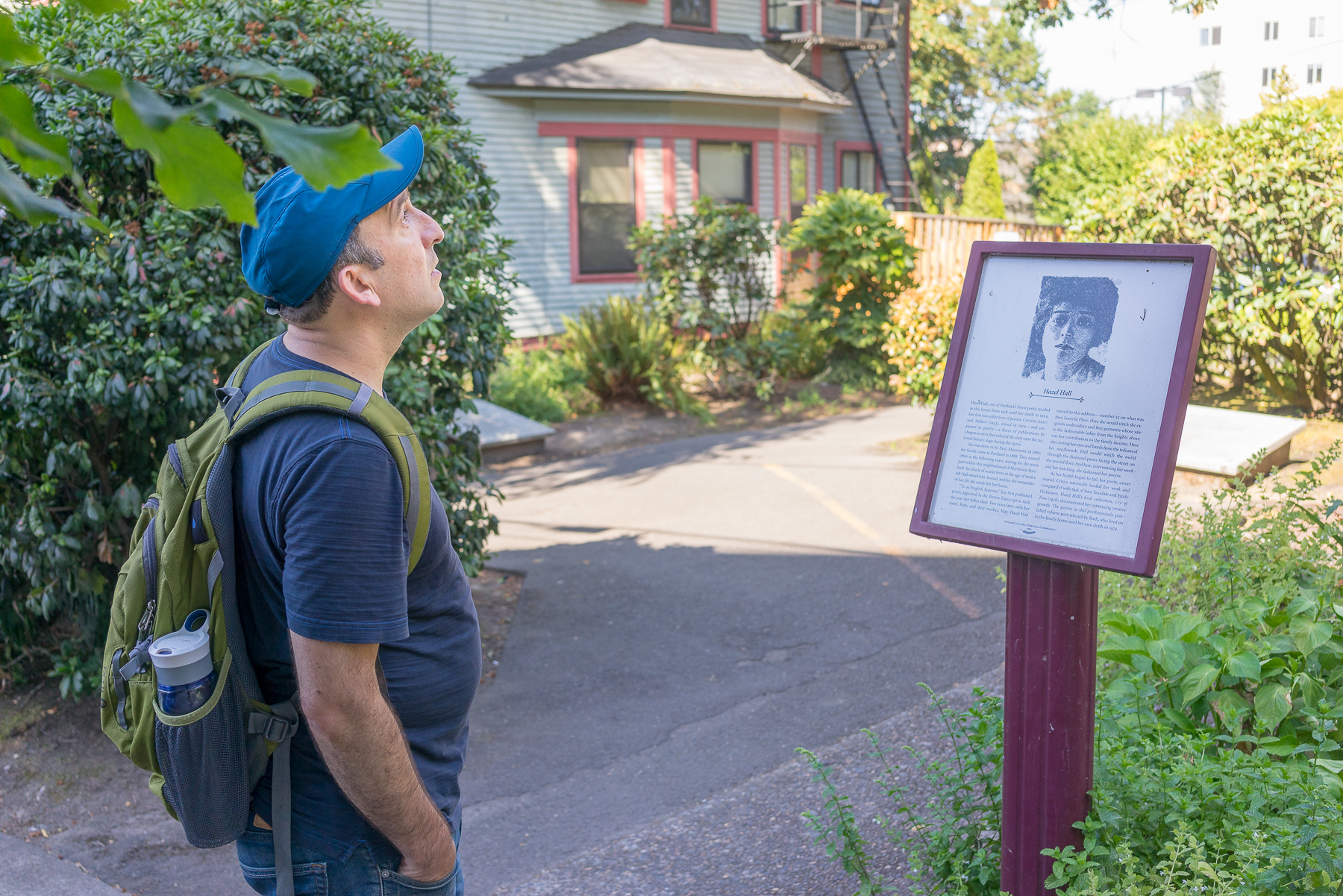 Next to her former home is a sign with a portrait of Hall and text explaining her life and work she did while living there. Behind the sign is the Hazel Hall Poetry Garden.
Photo by Laura Glazer.
The current residents of Hall's former home very kindly gave us a tour of her second floor apartment. During the tour we all delighted in identifying architectural features we suspected were original to time in which she lived there and looking through the same windows she gazed through as inspiration for her poems.
Photo by Laura Glazer.
Project organizer and collaborator, Matthew Svoboda's pre-performance lecture used our research to give the audience background on Hall's life and work.
Photo by Laura Glazer.
Each performance attendee was offered a program and broadside.
Photo by Cat Frink.
We invited the publisher, Oregon State University Press, to set up a table in the lobby to sell
The Collected Poems of Hazel Hall
in an effort to continue exposing people to the life and work of Hazel Hall. By the end of the event, every copy they brought was sold, approximately 25 copies.
Photo by Cat Frink.
After the performance, dancers and the audience were invited to make a gesture of hands holding a book, symbolizing the offering of Hall's work to the world outside her window.
Photo by Cat Frink.
Post-performance question and answer session with composer Matthew Svoboda (in the blue shirt), Laura Glazer (holding the microphone), artist Chayo Wilson (on the right), and performers.
Photo by Brandi Haile.
The local daily newspaper,
The Register Guard
, covered the performance with a
feature article
in the Arts section. Also, Oregon Public Broadcasting's
Think Out Loud
radio program featured an interview with Matthew and Karen Daly, the dancer who portrayed Hall.
Photo by Marty Brown.



Project by

Laura Glazer, Matthew Svoboda


Collaborators

Mari Dewitt, Cat Frink, James McConkey, Jana Meszaros, Sarah M. Nemecek


Participants

Karen Daly, Geri Doran, Heather Kidd, Lane Dance Company


Locations

Portland, Oregon
Eugene, Oregon


Year

2019




Sparking Memory:
Artists Respond to Hazel Hall
When people first learn about Portland, Oregon, poet Hazel Hall they often experience noticeable sparks of wonder and want to read her poetry and know more about her life.
Her story invites questions and conjures compelling images: a short life mostly lived in a wheelchair while supporting her family with sewing. Award-winning poems about what she saw from her window. Internationally admired in her lifetime; hidden and almost forgotten in ours.
I curated artwork from three artists, Terry Ann Carter, Chayo Wilson, and myself for this exhibit. Each of us used our respective mediums to explore, understand, and share Hall's story. For me, I had a visceral urge to seek historical context and document what I found, felt, and experienced during the process. For Terry Ann, Hall's words needed to become a physical object that can be touched and treasured as an heirloom. Chayo discovered a muse within Hall and hoped to release her spirit and story through her sculptures.
These works were exhibited at Lane Community College's Ragozzino Performance Hall on the occassion of
The Room Upstairs
performance.
Project by

Laura Glazer


Participants

Terry Ann Carter, Laura Glazer, Chayo Wilson


Locations

Portland, Oregon
Eugene, Oregon


Year

2019




Traveling Library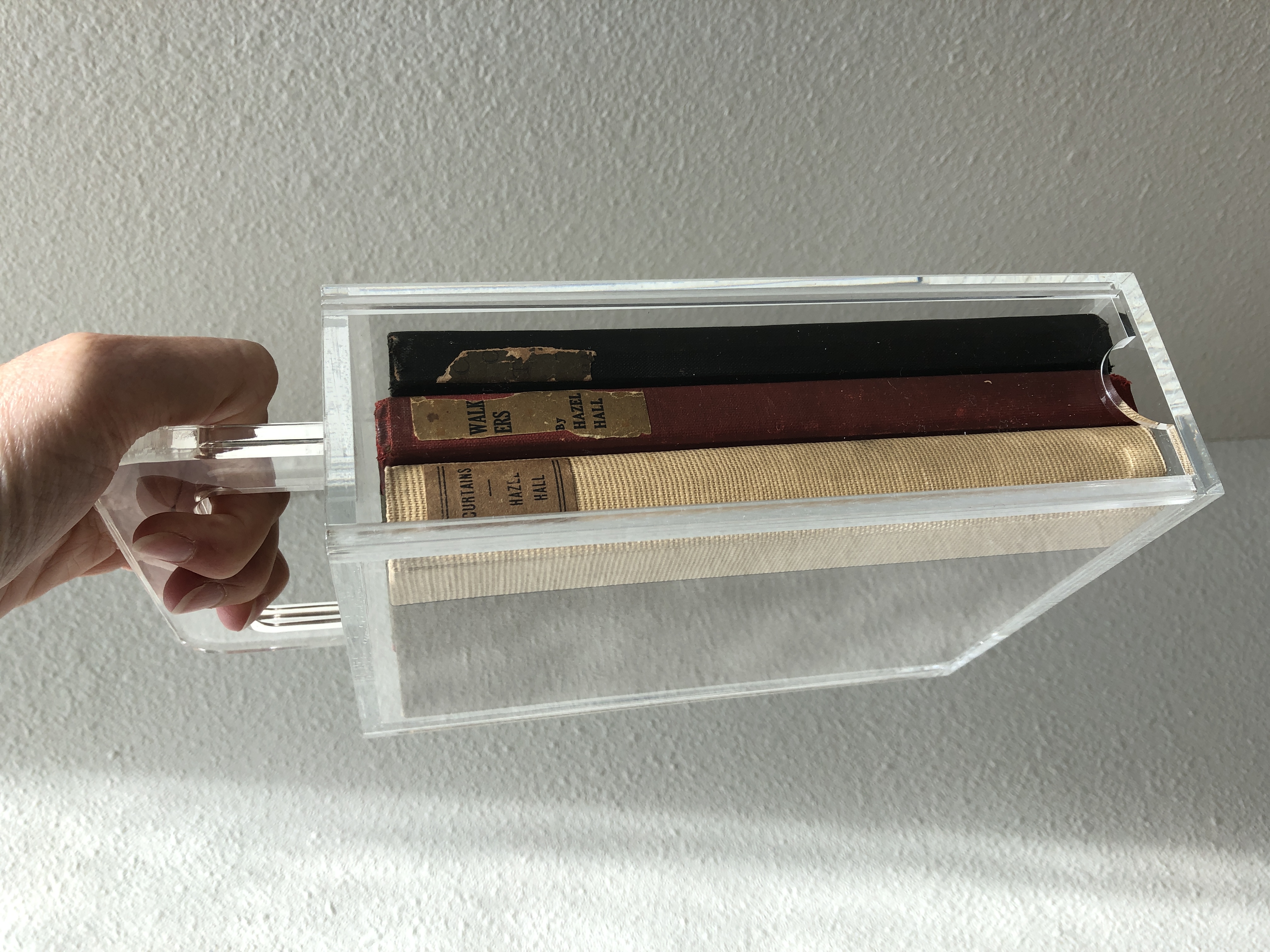 Presented at Vanport Mosaic's 2019 Memory Activism Fair, A Hazel Hall Traveling Library is a tool for sharing her poetry, life story, and works about her. The Library's main components are two portable cases which convert to bookshelves when the front panels are removed. This Library facilitates access to her work, bringing her out of history and directly to contemporary audiences, and increasing awareness of her existence which has decreased in the years since her death.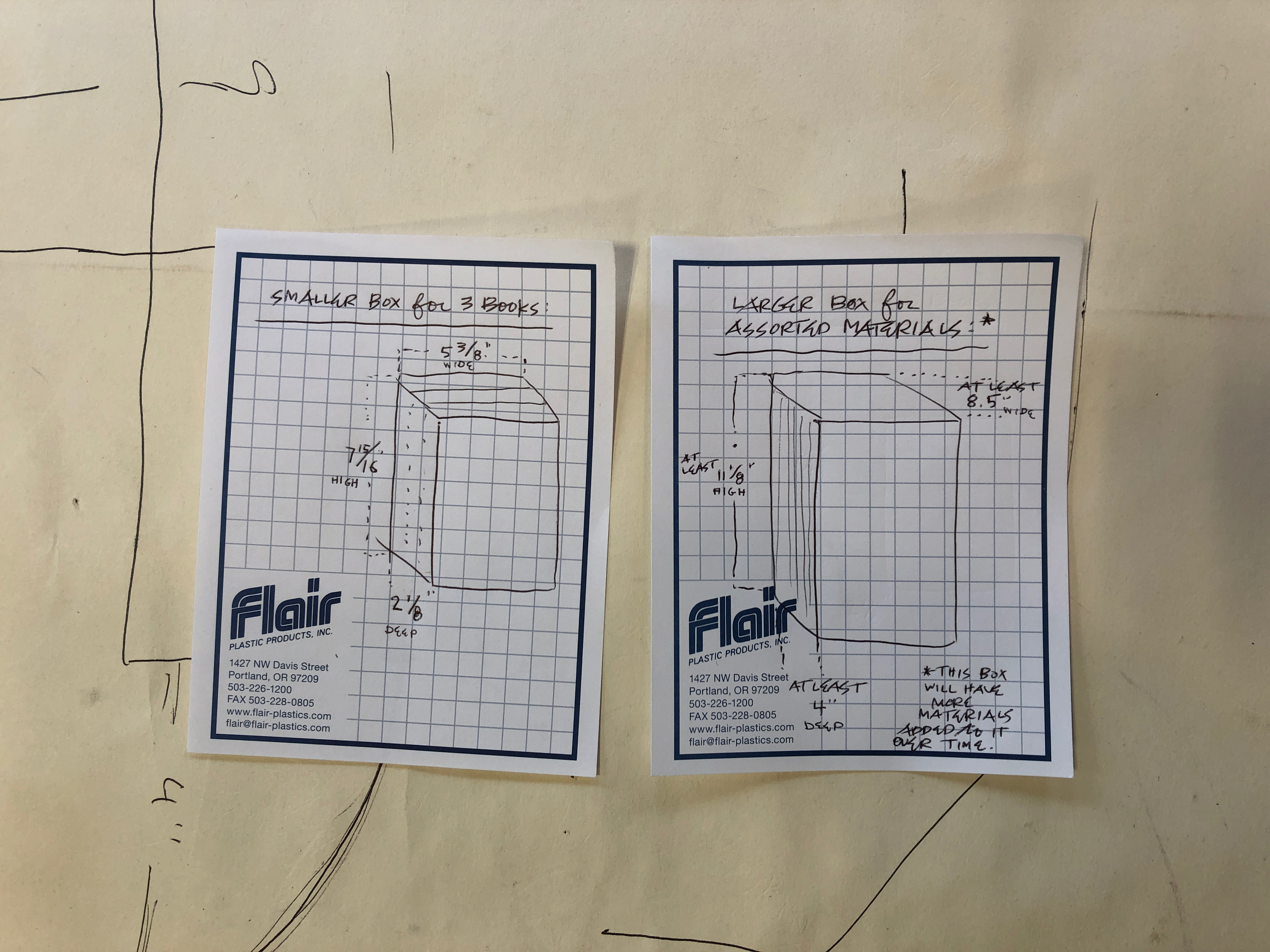 Project by
Laura Glazer
Engineering and fabrication by

Dave Owens at Flair Plastic Products
Location

Portland, Oregon
Year

2019
Mini Museum of Sound




In collaboration with Oregon State University Press, I invited 13 regional artists to record themselves reading a poem by Hazel Hall. A Portland-based singer songwriter composed original songs inspired by two of Hall's poems. The release of the recordings coincided with the publication of a paperback edition of The Collected Poems of Hazel Hall. The poems and songs are available to listen to on Soundcloud.

The original plan was to "install" these recordings in a vintage telephone booth at NOUN A Person's Place for Things, a gift shop in Portland. Once inside the booth, visitors lift could the phone receiver and hear a poem. Unfortunately, the COVID-19 pandemic prevented us from completing this part of the project.




Project by

Laura Glazer


Collaborators

Marty Brown, NOUN A Person's Place for Things, Oregon State University Press


Participants

David Biespiel, Anne Greenwood, Leanne Grabel, Brandi Haile, Anita Helle, Andrea Hollander, Sue Mach, Kim Stafford, Matthew Svoboda, Chayo Wilson, John Witte


Location

Portland, Oregon


Year

2020