The Room Upstairs:
Exploring the Life and Poetry of Hazel Hall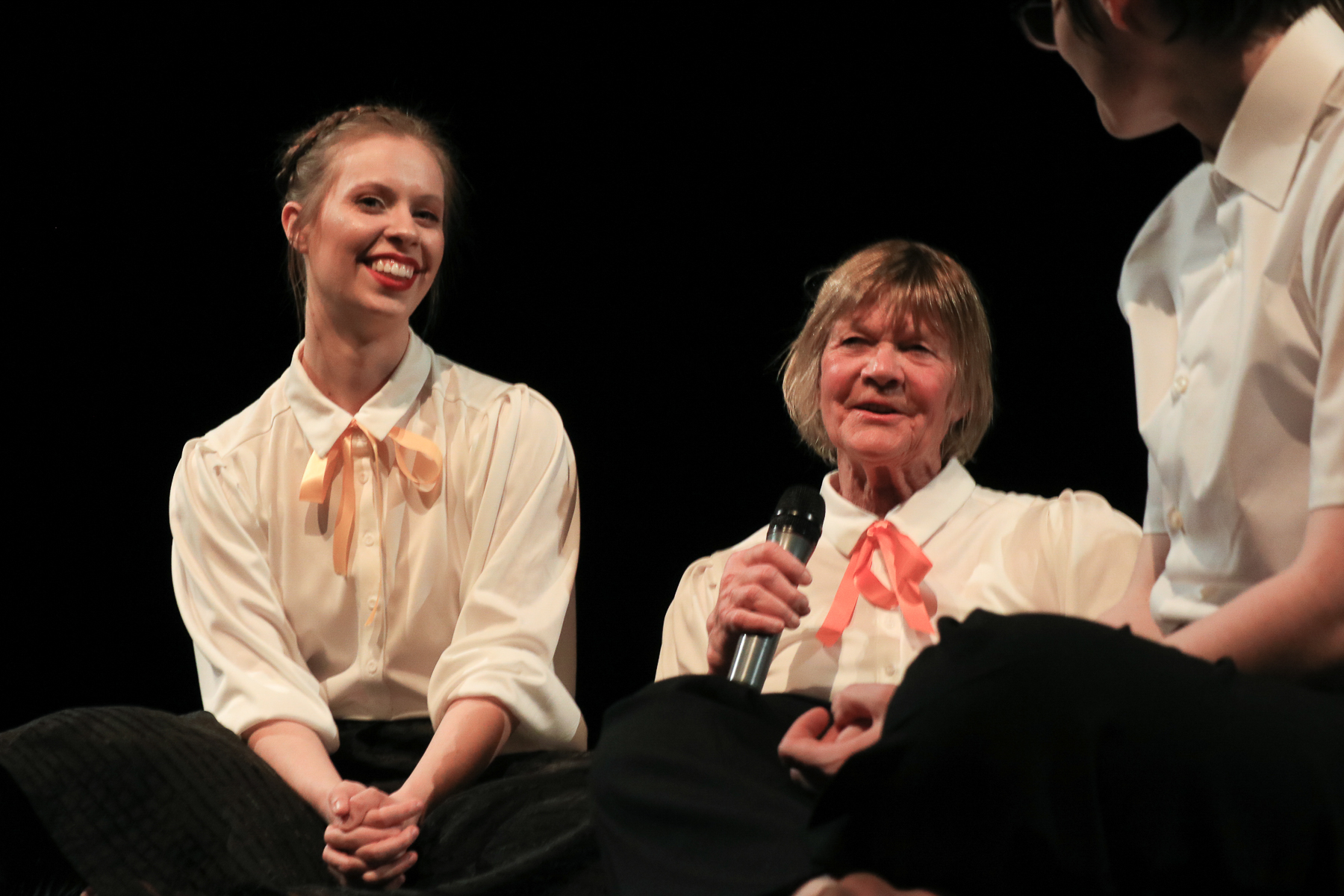 After the performance of
The Room Upstairs
, actors portraying Hazel Hall answered questions from the audience at Lane Community College.
Photo by Cat Frink.
In 2017, musician and educator Matthew Svoboda introduced me to the life and work of Hall. Together, we researched her life, poetry, and the history of Portland during her lifetime. We did this through visiting the Oregon Historical Society's research library, touring Hall's former home with the current residents, exploring the City of Portland and Multnomah County Library's digital archives, and meeting with visual artists making artwork inspired by Hall.
We used this research to develop a performance at Lane Community College depicting and celebrating Hall's life. Matthew composed a three-movement work for dance that echoes the themes of Hall's three books and collaborated with two choreographers on a performance with a group of Lane students and a dancer from the community who uses a wheelchair, portraying Hall.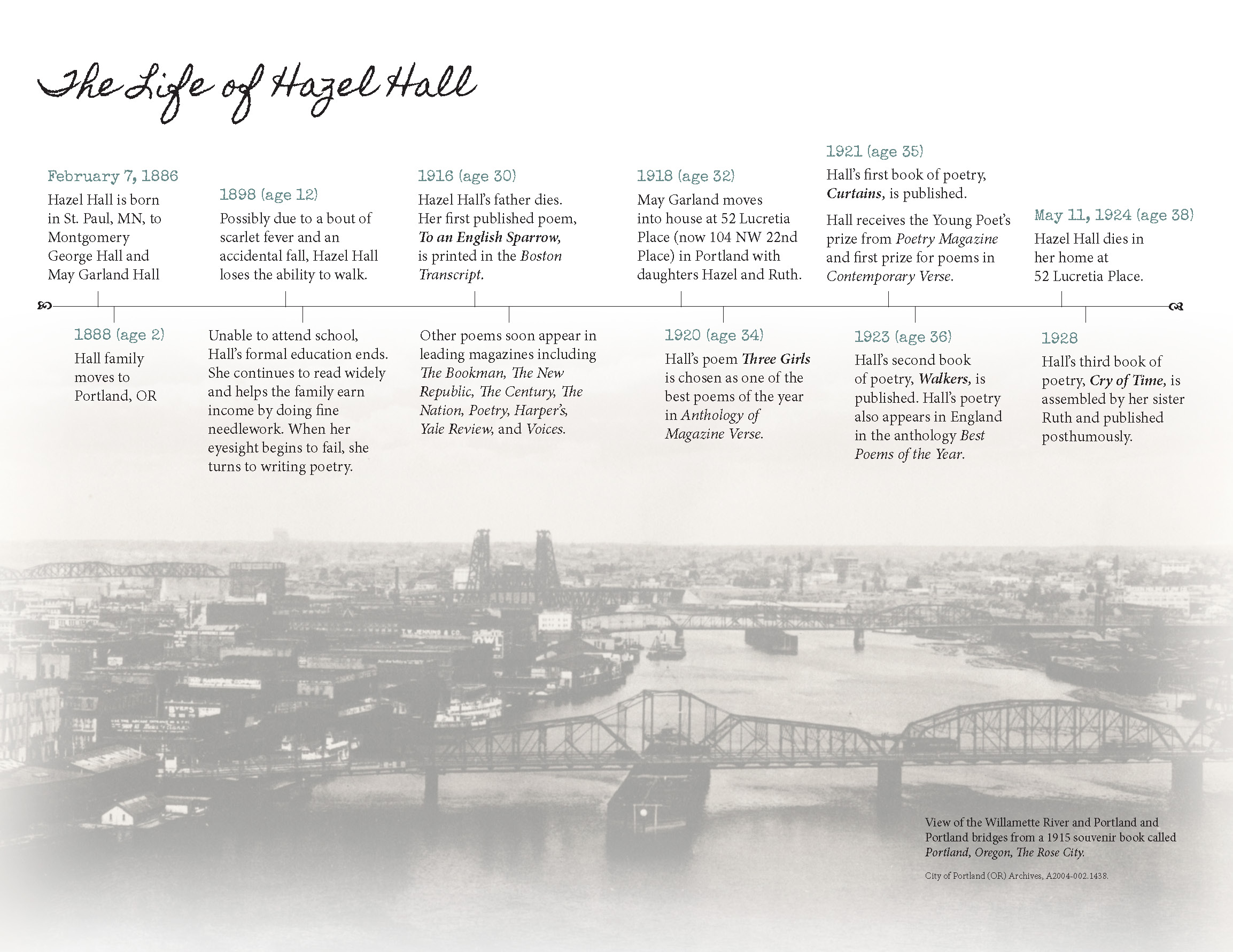 The content and design of the event poster, program, and poetry broadsides were shaped by our research in collaboration with graphic designer, Cat Frink, who was a senior at Lane.
Photo by Laura Glazer.
Our quest to understand the life of Hazel Hall landed us at the Oregon Historical Society's research library. With the help of a research librarian, we delighted in reading the registration form used for requesting the addition of Hall's former home to the National Register of Historic Places in 1991.
Photo by Laura Glazer.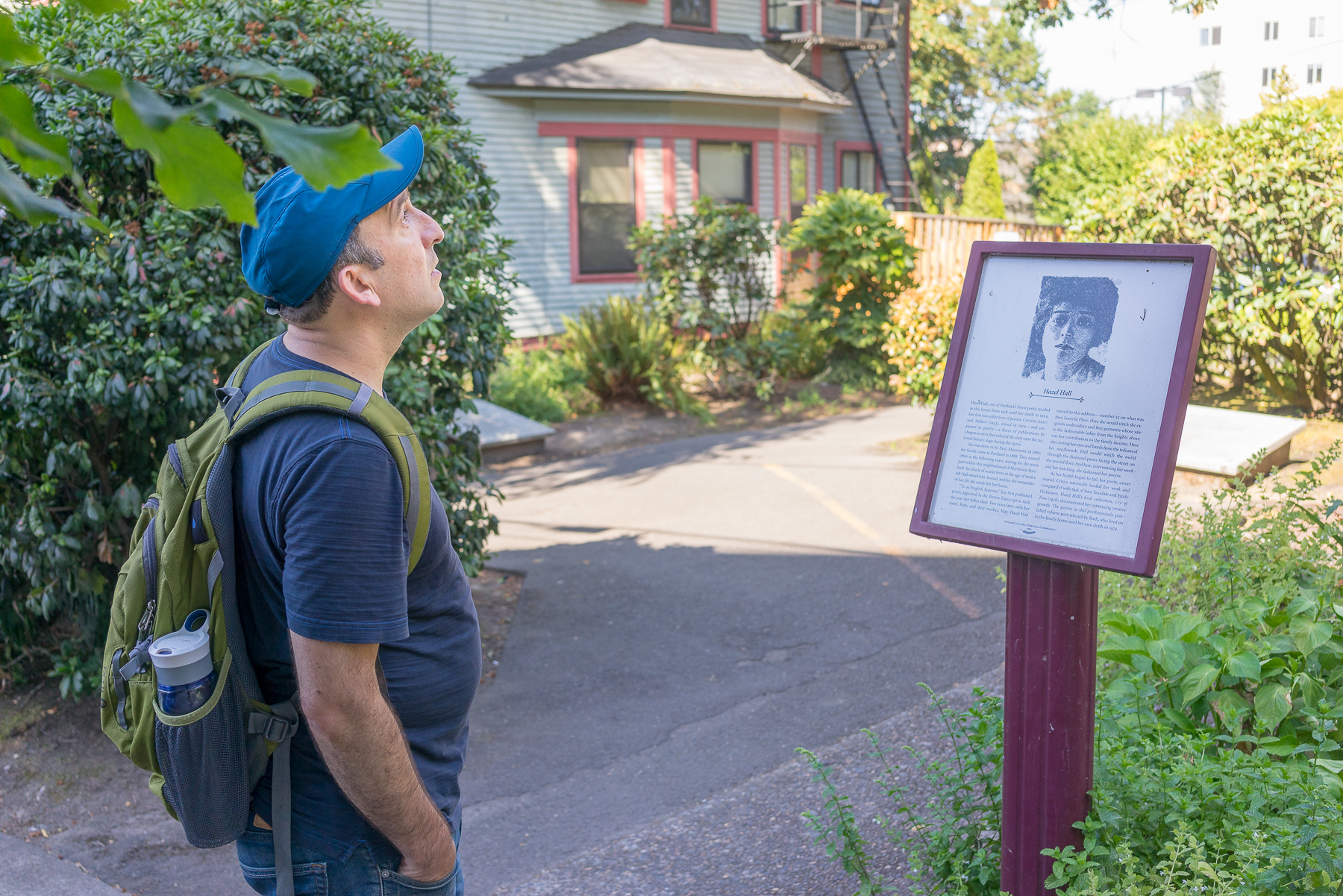 Next to her former home is a sign with a portrait of Hall and text explaining her life and work she did while living there. Behind the sign is the Hazel Hall Poetry Garden.
Photo by Laura Glazer.
The current residents of Hall's former home very kindly gave us a tour of her second floor apartment. During the tour we all delighted in identifying architectural features we suspected were original to time in which she lived there and looking through the same windows she gazed through as inspiration for her poems.
Photo by Laura Glazer.
Project organizer and collaborator, Matthew Svoboda's pre-performance lecture used our research to give the audience background on Hall's life and work.
Photo by Laura Glazer.
Each performance attendee was offered a program and broadside.
Photo by Cat Frink.
We invited the publisher, Oregon State University Press, to set up a table in the lobby to sell
The Collected Poems of Hazel Hall
in an effort to continue exposing people to the life and work of Hazel Hall. By the end of the event, every copy they brought was sold, approximately 25 copies.
Photo by Cat Frink.
After the performance, dancers and the audience were invited to make a gesture of hands holding a book, symbolizing the offering of Hall's work to the world outside her window.
Photo by Cat Frink.
Post-performance question and answer session with composer Matthew Svoboda (in the blue shirt), Laura Glazer (holding the microphone), artist Chayo Wilson (on the right), and performers.
Photo by Brandi Haile.
The local daily newspaper,
The Register Guard
, covered the performance with a
feature article
in the Arts section. Also, Oregon Public Broadcasting's
Think Out Loud
radio program featured an interview with Matthew and Karen Daly, the dancer who portrayed Hall.
Photo by Marty Brown.



Project by

Laura Glazer, Matthew Svoboda


Collaborators

Mari Dewitt, Cat Frink, James McConkey, Jana Meszaros, Sarah M. Nemecek


Participants

Karen Daly, Geri Doran, Heather Kidd, Lane Dance Company


Locations

Portland, Oregon
Eugene, Oregon


Year

2019