Agnès Varda Forever

Poster from the Agnès Varda Forever project hanging in front of Music Millennium in Portland, Oregon, on April 14, 2021.
Photo by Jennifer "JJ" Jones.
Quick links:
Festival tickets
Shirts and totes
---
As part of an assignment from artist Harrell Fletcher in the Portland State University Art and Social Practice MFA Program, I commissioned Jennifer "JJ" Jones to continue her "Agnès Varda Forever" project. Her project began in the summer of 2020 after JJ and her son watched a marathon of movies directed by Agnès Varda during the Covid-19 stay-at-home order. As a result, they wanted more people to know about Varda. JJ acted on this desire in October by painting "AGNÈS VARDA FOREVER" in eight-inch high letters on the utility pole at the end of her block.
Around that time, I drove past this bold message and was delighted by its spirit, not realizing that it was JJ's neighborhood or her handiwork. I was so excited about the sign and its striking letterforms that I emailed JJ about it later that night.
JJ replied to my email:
"One night, when I couldn't sleep, I went down to the corner of MY STREET and painted that pole!!!!! What is incredible is that YOU saw it! I thought about sending you a picture of it, but then thought that a better thing to do would be to someday go and paint it on something near your apartment, so you could accidentally stumble upon it! This is SO magical, that it worked out this way. My heart and my mind are blown!!!"
As part of the assignment from Harrell in April 2021, I received $100 to commission someone to do anything. I offered it to JJ and together we designed a poster with the "AGNÈS VARDA FOREVER" message and removable tabs listing movies directed by Varda and a short description of each movie.
JJ bought colored paper to print the poster and perforated the lower portion of the poster, making tab removal easier. Then she cut each tab by hand and anonymously hung over 500 of them on poles in Portland and beyond. JJ's hope was that people would take a tab from the poster and use it as a reminder to find out more about Varda and then watch the film.
In May 2021, we celebrated Varda's birthday by revealing our identities and the story behind the project and our collaboration during an
interview
with the Hollywood Theatre. A
more in-depth interview
was published in the Social Forms of Art Journal in early June 2021. Awareness and excitement about the project grew as it was named a "Best Idea" in
Willamette Week's "Best of Portland Portland"
issue, featured in
Oregon Public Broadcasting
and
Portland Monthly
stories, and we were special guests on the
I-5 Cinemabound podcast
with Rob Patrick and Megan Hattie Stahl.
We commissioned artist Shelbie Loomis to make portraits of Varda which we used to create
artist stamps
with the Portland Stamp Company. Proceeds from the stamp sales will benefit POWGirls, which offers workshops in video production, cinematography, audio recording, set lighting, digital editing, and media literacy for girls and non-binary youth ages 15–19.
Inspired by our project, the Clinton Street Theater invited JJ and I to collaborate on a film festival inspired by the project which became the Agnès Varda Forever Festival, during which five of Varda's films were screened. Each moviegoer received a
program
and
festival-related souvenirs
(tee shirts, tote bags, and screenprinted posters) were available to buy, further extending the reach of the project's message and magic.
During the festival, we were artists-in-residence at the Theater, creating Varda-inspired artwork in response to the theater and neighborhood people and places.
Would you like to hang a poster up in your neighborhood? If so, please feel free to download, print, cut the tabs, and post wherever you think one is needed! Please snap a photo of the scene where you hung it and post it to Instagram with the hashtag #agnesvardaforever.

A visual timeline of our work together and the development of this project is below.
JJ painted "AGNES VARDA FOREVER" at the base of pole at the intersection of Corner of NE Ainsworth Street and NE 27th Street in Portland, Oregon, in September 2020. I shared the picture of the sign on Instagram and a good friend shared it with Varda's daughter, Rosalie, who sent me an encouraging message.
Photos by Laura Glazer.
This is the front of an invitation to the commission that I created and mailed to JJ. On the back of the invitation I explained that the only string attached to the commission is that she allow me to interview her about it. A few days later she received the invitation in the mail and accepted the commission.
Photos by Laura Glazer.
Right: Originally, JJ envisioned a "marquee/vintage postcard" style poster and asked me to execute the design. Left: As I worked on her design, I created an alternate version using her handpainted lettering on the utility pole. Even though it wasn't what she had in mind, she thought it was great and we continued adjusting the design based on this draft.
Photos by Laura Glazer.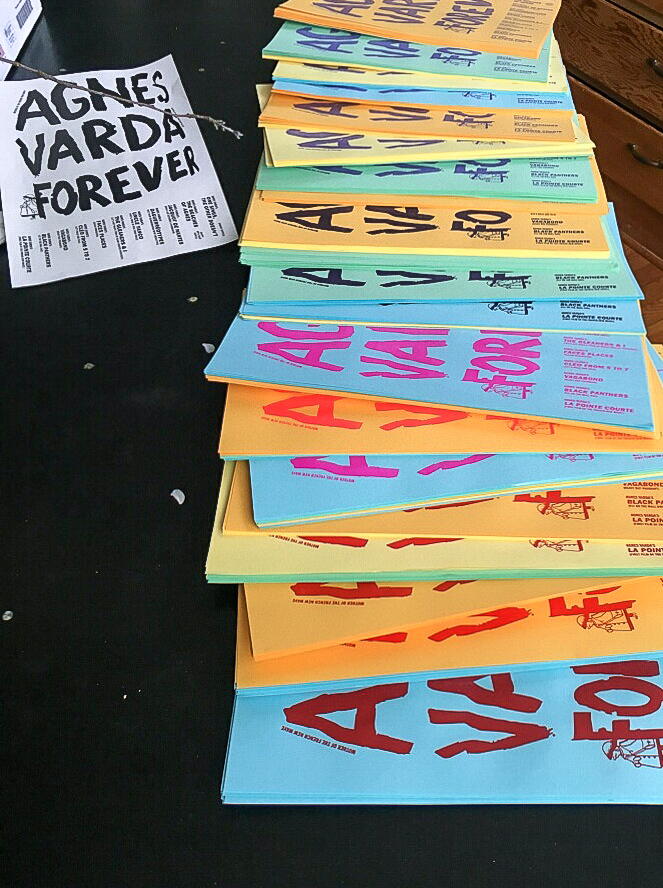 Left: A few days later, JJ picked up a huge stack of paper in many colors from SCRAP for $5.
Photo by Jennifer "JJ" Jones.
Right: JJ's neighbor, Mykle Hansen, volunteered to print the posters using the Risograph copier at the Independent Publishing Resource Center. The ink colors include neon pink, red, and purple.
Photo by Mykle Hansen.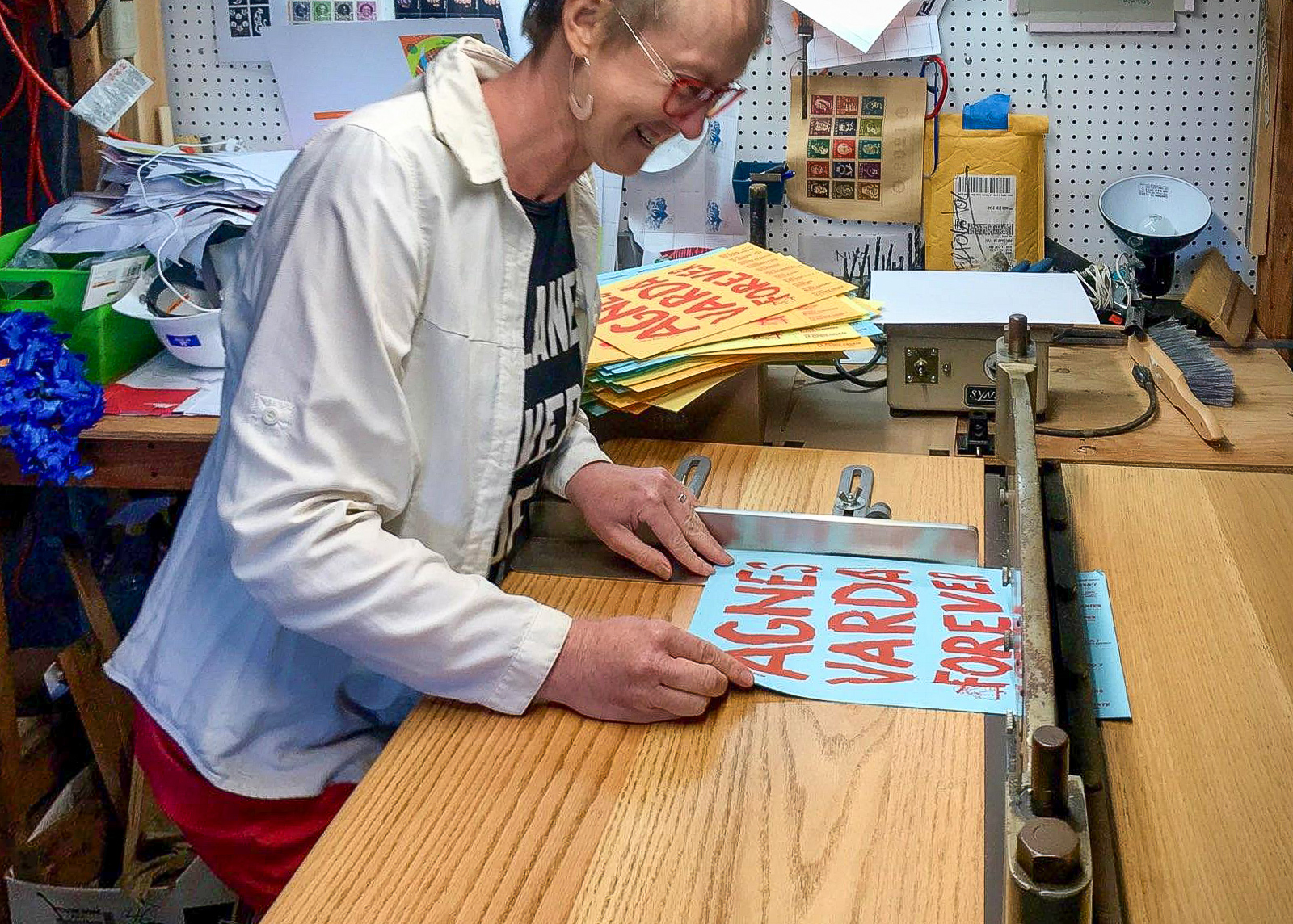 In order to make it easy for people to remove the tabs, JJ worked with the Portland Stamp Company to add a perforated line at the bottom of the poster.
Photo by Niko Courtelis.
Without telling me, JJ hung a poster outside of my apartment building. I gasped with joy when I saw it! I removed the tab for the first movie I saw by Agnès Varda for which I will always have a special place in my heart and mind.
Photos by Laura Glazer
JJ and I were thrilled to find out that Portland's Hollywood Theatre was seeking information on our posters. The realization of our shared love for Agnès Varda happened during their 2018 screening of Varda's
Faces Places.
Screenshot by Laura Glazer.
Project by

Laura Glazer, Jennifer Jones


Original commission

Harrell Fletcher, Portland State University Art and Social Practice MFA program


Festival artist talk host

Tara Johnson-Medinger, POW Film Fest and POWGirls


Artists stamp illustrator

Shelbie Loomis


Location

Portland, Oregon


Year

2021


Special thank you

The Clinton Street Theater, Martine Arenella, Rebekah Bellingham of Vein of Gold, Christopher Branson, Kristen Gayle Castagna, Aaron Colter, Niko Courtelis, John Cox, Harrell Fletcher, Mykle Hansen, Polly Hatfield, Hollywood Theatre, I-5 Cinemabound Podcast with Rob Patrick and Megan Hattie Stahl, Independent Publishing Resource Center, Tara Johnson-Medinger, Ethan Kroll, Claudia Meza, Shelbie Loomis, Outlet, The Portland Stamp Company, Portland State University Art and Social Practice MFA Program, Conner Reed, Jordan Rosenblum, Seizure Palace Screen Printing, Emma Swartz, Mark Swartz, Nico Swartz, James Webb, and Agnès Varda and family.